Silvio: Campagnolo Veloce/Comp Triple
The parts are coming in now.
The mission of this frame can be summarized as "Triples are for Short People, Too."
This is being developed with the information I gathered from building Bryan's bike, plus initiatives we have underway for moving the front derailleur mounting point.
First learning: the Origin 8 bars are much better-suited for short Silvio riders. I could not make the WTB's I put on Bryan's bike work for my arm length, but the Origin 8 bars fit quite well without excessive height on the TFT.
Second learning: The Conti GP4000 tires are lovely, but I could not remove and reinstall them on the road given who difficult they were to mount. After some research with my LBS, I installed Vittoria Open Tubulars on these wheels (Fulcrum F7's - made in the Campy factory next to the Vento's - I wanted a more conventional spoke pattern.) 140psi, when on reasonably easily, kevlar under the top surface.
Third Learning: IRD 12-28 cassette, with 53-42-30 crankset. IRD provides a wide selection of ratios; they also provide conversion cassettes that allow you to run Campy spacing on Shimano wheels, so you can get great ratios with great shifters.
More info as more parts arrive - planning on using this on the Central Va. MS150 on May31 - June1.
Doug
Finally: MY first Sivio Ride!!!!!!!!!!!
As you know, I assembled Bryan Ball's review bike, but couldn't get it to fit me properly with parts chosen for his x-seam. Torture, to put it together, tune it out, sit on it, put it in back in the box and ship it out...
After some period of parts testing and selection, tuning, measuring, and talking to John...
I'M RIDIN', BAAYYYBEEEEEEEEEEE!!!!!!!!!!!!
This thing is a freakin' BLAST! I was worried that it would take a while for me to get comfortable and ready for the MS150, but it just sits right and fits right!
I made a few tweaks to fit things to my short x-seam, and one final change is not complete yet, and I have to tape the bars (still making slight adjustments to the bar angle and maybe the brifter placement...)
Some of the "Randy Newman" tweaks:
The Origin * Gary bars are perfect for short folks - less reach and more shallow that the WTB bars, they can operate a little lower on the bike and you don't feel like you'll end up dragging your knuckles on the ground after riding.
The seat cushions got some attention... the backrest has a second additional underpanel from a kit bike seat to move me forward slightly in the seat. The bottom cushion has and additional underpanel of 5/8" Minicell foam to raise it a little to reduce the BB-to-seat height differential, and I might increase that pad to one inch, though the bb-seat relationship feels just fine (if you have an aerobelly, you have to tune for thigh encroachment on the tummy lol) The slightly less-dense underpanel works with the original rigid foam underpanel to make a super-comfy bottom pan, which is important for my 7 hours in the seat each day for the 150.
The drivetrain went from Campy Triple to a mix of parts. The Campy Triple RD was retained for its long cage to work with the IRD 12-28 cassette. The front drivetrain was changed to a Suntour XC Comp Braze-On in an attempt to avoid a derailleur position adapter on the front - the XC Comp, a top-of-line derailleur from 1992, has the longesta and deepest cage I've been able to find - a full 1 inch longer than the Campy Comp Triple. I still need an adapter, but it can be much shorter than I originally was intending, and therefore much stiffer. I changed the crankset to a Forte Carbon compact double, partly because the compact double on my red bike works perfectly, partly because it will work well at the open chainstay angle, and partly because it was really cheap on clearance.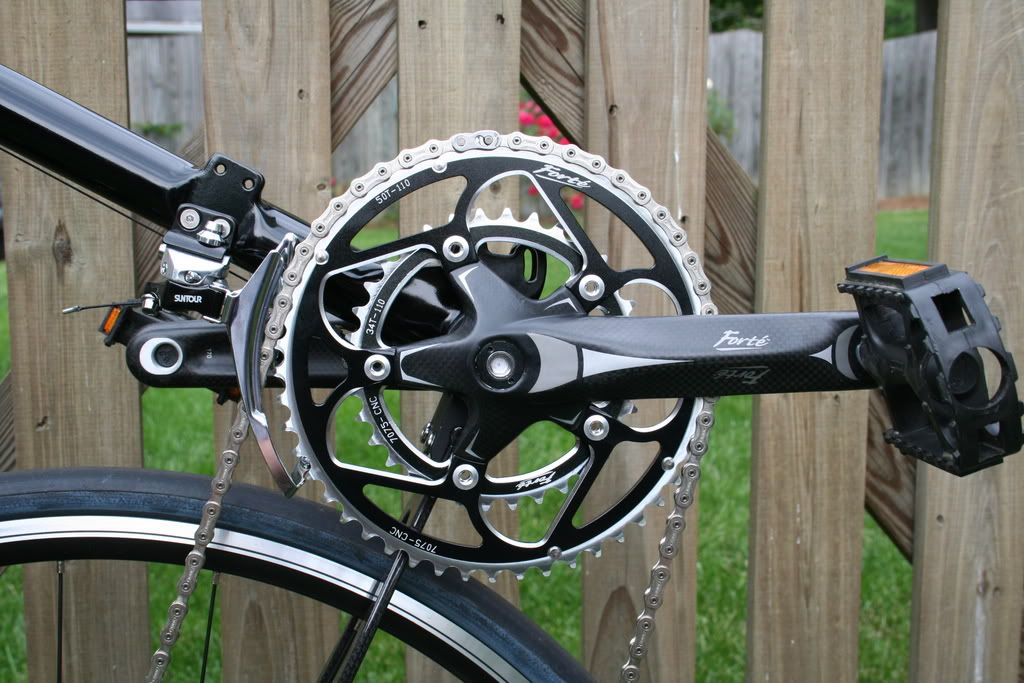 SO it's about to rain, so I can tape the bars and finish my interim FD adapter (John's working on a real one), then it's mount-up the Speedplay Frogs, install the Fred Mirror and check this puppy for sure!
What a bike!